Immerse yourself in the thrilling search for dinosaurs in the extremes of Antarctica.
Examine real Antarctic fossils and explore recent dinosaur discoveries.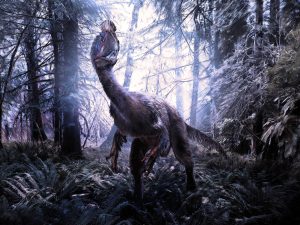 SAN ANTONIO, Texas (February 15, 2023) – Step back 200 million years in time and explore Antarctica when it was warm, lush and ruled by dinosaurs! "Antarctic Dinosaurs" makes its Texas debut February 25 through September 10, 2023 in the Kathleen and Curtis Gunn Gallery at the Witte Museum. See full-scale models of recently discovered dinosaurs, examine real Antarctic fossils and discover the extreme risks scientists take to explore and unearth Antarctica's past.
"The enormity and exotic nature of the discovery of dinosaurs in the now-fossilized forests of Antarctica is exciting to comprehend," shared Marise McDermott, President & CEO of the Witte Museum. "'Antarctic Dinosaurs' is a spectacular exhibition that reveals breathtaking evidence of Earth's past. Now we all wonder what else is out there to explore and discover!"
Organized by the Field Museum in Chicago, "Antarctic Dinosaurs" invites you to explore the plants and animals that once flourished in the thick forests of Jurassic Antarctica and learn how the land changed to become the polar continent we know today.
View fossils that reveal Antarctica's past alongside large-scale replicas of dinosaur species unique to the continent. Then witness the persistent challenges and extreme conditions of expeditions to the "Lost Continent" to gain an understanding of the tough working conditions for the scientists who must rely on an arsenal of modern power tools to extract fossils from rock and bring these exhilarating discoveries to light.
A special section of the exhibition, exclusive to the Witte Museum, shares the fascinating connection of Antarctica's McMurdo Station to heavy-equipment manufacturer Caterpillar and the Holt family, which operates San Antonio-based HOLT CAT. The station, where geologists and paleontologists launch their research expeditions, was built in the 1950s using equipment from Caterpillar, which was founded by inventor Benjamin Holt. McMurdo has been essential for scientists to stage expeditions and retool with supplies for up-mountain excavations.
Tickets for "Antarctic Dinosaurs" can be reserved online at WitteMuseum.org. There is a $6 surcharge in addition to Museum Admission. All content is provided in both English and Spanish.
Get even more dinosaur with the museum's new Family Plus membership, which features unlimited, free access to exhibitions requiring a special ticket, including "Antarctic Dinosaurs" and the upcoming 2023 exhibitions "Tyrannosaurs: Meet the Family" and "Explore Your World." Memberships can be purchased at WitteMuseum.org/Membership.