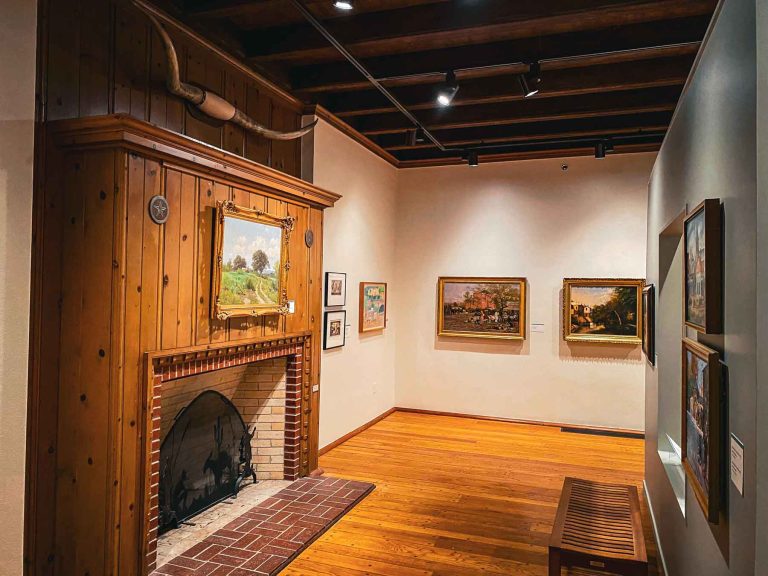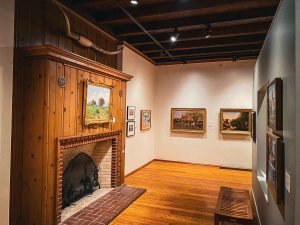 SAN ANTONIO, Texas (March 24, 2023) – Opening at the Witte Museum on March 24, 2023, Texas Art: Kinship and Culture and San José Tiles: The Art & Artist explore how Texans have lived and worked over time with iconic paintings and vibrant pottery selected from the Witte Museum collection. Texas artists have captured and interpreted the lifeways of people over hundreds of years, with people, rather than landscapes, predominating in their art. The community is invited to explore their keen artistic insights, which help us comprehend and understand life in Texas, at these exhibitions, which are open through August 13, 2023.
Texas Art: Kinship and Culture, on display in the Russell Hill Rogers Texas Art Gallery, is organized into four themes that use art to explore different facets of life in Texas: Dignity of Work, Kinship, Culture and Land, Sky and Water. Approximately 45 works from the Witte Texas Art collection are included, including a good number of old favorites—Chili Queens at the Alamo by Julian Onderdonk and Rose Window by José Arpa y Perea—and new acquisitions to the Witte collection—such as works by Nivia Gonzalez and Fidencio Duran. Porfirio Salinas' La Pintas Ranch Mural, painted in 1968 to fill four walls of a home office, is also on display.
An interactive area in the Texas Art exhibition encourages visitors to share how art helps them comprehend Texas and illustrate their experience in Texas by creating digital art themselves.
Texas Art: Kinship and Culture is generously supported by the Russell Hill Rogers Fund for Arts.
In the nearby Laura and Sam Dawson Gallery, San José Tiles: The Art & Artist gives a glimpse into the people and techniques that made the pottery produced in San Antonio's San José workshops so prized. For more than 40 years, thousands of vibrant tiles, bowls, plates and other pottery were designed and created in the workshops that depicted scenes of festivals, villages, ranches, plants and animals. This exhibition features numerous objects, including many original sketches for popular tiles, from the Witte Texas Art Collection. Highlighted artists include Fernando Ramos, whose work includes a popular series depicting Old San Antonio, principal tile painter Lucile Carmona, potters Mateo Espinosa and Ángel Rendón and metal artisans Theo and Kurt Voss.
San Jose Tiles: The Art & Artist is generously supported by the MATERIAL Bespoke Stone + Tile, James Lifshutz and Susan Toomey Frost.
Both exhibitions are included with museum admission and on view from March 24 through August 13, 2023 in the Robert J. & Helen C. Kleberg South Texas Heritage Center at the Witte Museum. More information can be found at WitteMuseum.org/Exhibitions.